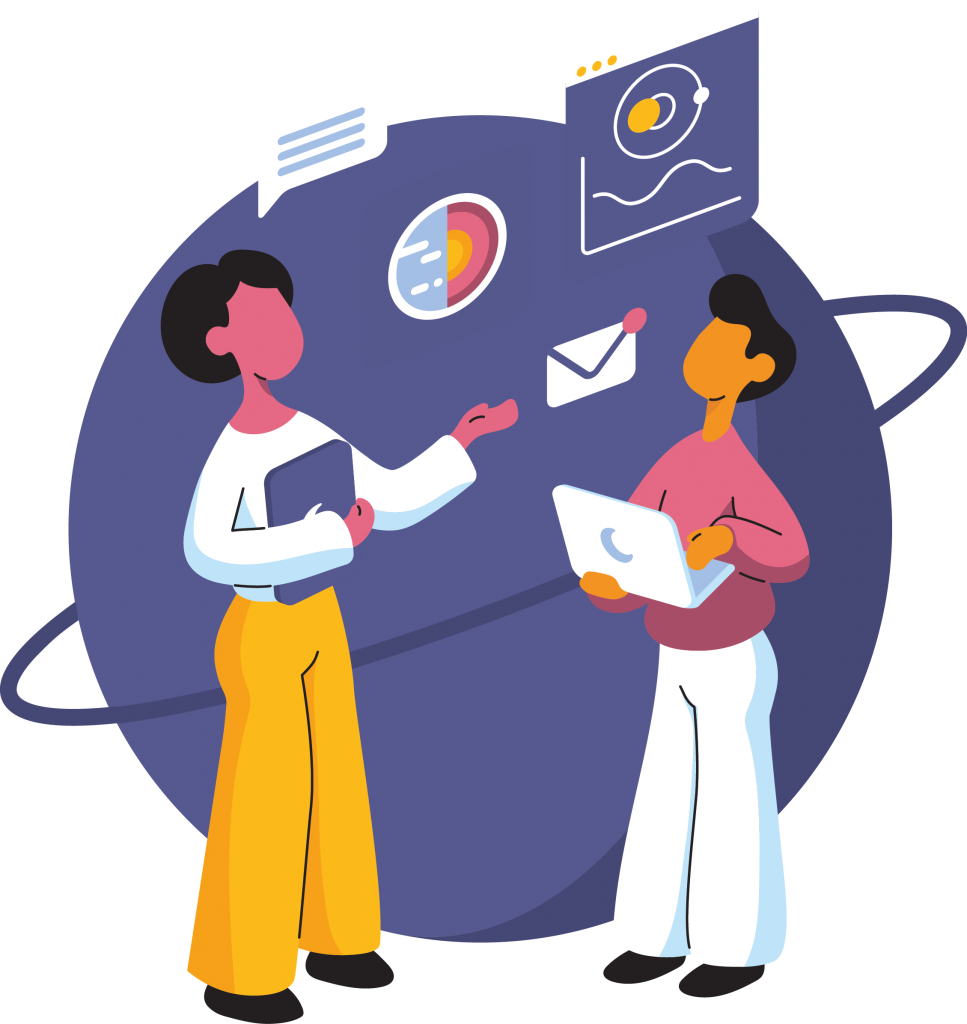 Mentoring is an informal, voluntary, supportive and confidential relationship between two people: the Mentor and the Mentee. You can think of a Mentor as an experienced and trusted advisor.
A Mentor is someone with whom a Mentee can discuss their career plans, evaluate options and achievements. Mentees can learn from their Mentor's experiences. Mentors can help Mentees work on their organisational and interpersonal skills and provide a sounding board against which to bounce new ideas, clarify problems and suggest alternative working methods. The relationship should be built on openness and trust, so that participants feel able to talk freely and in confidence about issues. Mentoring provides a wide range of positive personal and career outcomes, both for Mentors and Mentees.
At the beginning of the partnership, Mentors and Mentees should agree the boundaries of their Mentoring relationship and what can and cannot be discussed in their sessions. Mentoring is a professional relationship but quite different from that between superior and subordinate. A good Mentor will want to ensure that their Mentee gains confidence and independence as a result of the Mentoring process and is eventually able to go forward independently.
Mentoring is not a substitute for line-management or supervision or an alternative to networking or friendship.
Mentoring is not the same as counselling and it is not appropriate for a Mentee to ask their Mentor for guidance on issues that require professional support (e.g. matrimonial problems, financial issues, addictions, abuse etc).
A Mentor is not there to open doors for the Mentee. Mentees should not expect their Mentor to find them a job. However, Mentors may be able to help Mentees that want to find a new position by looking through their CV or by giving them advice on interviews.
Who is responsible for the Mentoring process?
Mentoring works on the principle that individuals are ultimately responsible for their own lives and the results they obtain. A sense of personal responsibility is key.
The responsibility for actions within the Mentoring programme lies with the Mentees. They should be proactive in organising e-meetings and their implementation.
Mentors have a responsibility to act professionally and not to mislead or reduce the confidence of the Mentee.
How will Mentors and Mentees make contact?
We will provide both the Mentor and the Mentee with contact details (email addresses) but we expect the Mentee to contact the Mentor initially, since the programme is mainly for the Mentee's benefit and they should take responsibility for the Mentoring process.
However, if you are a Mentor and you have not been contacted by your Mentee after a couple of weeks, it could mean that they are shy rather than uninterested in starting the Mentoring process; in this case, you may want to try contacting them.
How to prepare for first contact
To prepare for your first meeting, you may wish to exchange details (e.g. CVs, biographies or links) and agree on a mutually convenient method for making contact (e.g. Zoom, Skype, Facetime etc).
Both Mentors and Mentees should familiarise themselves with the Code of Conduct and consider what they want to get out of the Mentoring relationship.
As a Mentee, you should let your Mentor know the sort of issues that you would like to discuss and the type of help you require. As a Mentor, you should indicate the areas in which you feel that you are able to help.
At your first meeting, you should agree how frequently you want to interact (e.g. one meeting per term, once per month etc) and the length of your Mentoring partnership. We recommend that this is 12 months with the opportunity to review and decide if you want to continue at the end of the year.
Mentoring provides development opportunities for Mentors as well as personal satisfaction. Being a Mentor can improve your leadership skills and enable you to learn from alternative approaches and different ways of thinking. It can be challenging, inspiring and enlightening.
Mentoring works best when you are working towards specific, realistic goals in an agreed time frame. Discuss with your Mentor at the start of your Mentoring relationship what objectives and goals you want to set and what steps you might take to achieve them. Explain your circumstances to your Mentor clearly, concisely and honestly.
Feedback is an important part of Mentoring. As a Mentee, you should seek and be willing to receive constructive feedback, given in a positive manner, to help you understand your strengths and weaknesses and improve your self-confidence. Your Mentor can help you to identify what's important to you and to focus on how you want to move forward with your career.
As well as being a Mentee, you may want to think about whether you would like to become a Mentor yourself. Even if you are an early career researcher, you may have experiences that others could learn from. Becoming a Mentor will enable you to develop new skills and gain even more from Mentoring.
Is there anything that I should try to avoid doing as a Mentor?
While you are encouraged to share your experiences with your Mentee and give practical tips or examples of how you took action in circumstances relevant to your discussions, try to avoid telling them what to do. Your role is to enable the Mentee to make good decisions in the long-term without your help. They won't learn to do this if you "spoon feed" answers.
Be careful how you give advice. Remember that everyone is different and what works for one person is not necessarily a good solution for another. Try to pass on knowledge in an unbiased way and work with your Mentee to come up with different strategies and options.
Don't become emotionally involved. A good Mentor needs to remain objective.
Remember that you shouldn't feel that you have to solve all your Mentee's problems. If you feel that you cannot help with something, just say so. Mentoring is not a test.
Is there anything that I should try to avoid doing as a Mentee?
Don't expect too much – your Mentor is not there to solve all your problems for you. Remember that your Mentor is a volunteer and may have less time to set aside for the Mentoring relationship than you have yourself. They may not want or feel qualified to help you in every area where you have issues. Be understanding and appreciative of what they are able to offer. Their role is to help you to develop your own solutions.
Don't become reliant on your Mentor. Remember that you are responsible for your actions.
How long will it take for Mentors and Mentees to be matched?
We take matching Mentors and Mentees very seriously and aim to find synergies between a Mentor's areas of strength and a Mentee's Mentoring needs. However, it can take time for us to find you a suitable Mentoring partner and, in some cases, it may be months before we can identify an appropriate pairing.
Are there any circumstances where applications to participate in the programme are not accepted?
If we feel from your application that the support that you require is outside the scope of the mentoring scheme (e.g. for matrimonial problems, financial issues, addictions, physical, mental or sexual abuse etc), we will do our best to direct you to an appropriate support service.
What if I know the Mentor/Mentee that I have been assigned or there is a conflict of interest?
If you already know your Mentor/Mentee, it might make it more difficult to discuss issues with them e.g. if a Mentor is in close contact with a Mentee's boss or supervisor, it might be difficult to be frank about problems at work. We advise that you do not have a Mentor who has previously had some managerial responsibility for you. If you feel that there is a conflict of interest with the Mentor/Mentee that you have been matched with, please let us know as soon as possible.
Will I be able to withdraw from the Mentoring programme?
Whilst commitment to the Mentoring relationship is needed from the outset, if there is an urgent change in plans or the achievement of goals, it is possible to withdraw from the Mentoring programme. Please inform your Mentor/Mentee about your decision and let us know too.
Whom should I contact if I have challenges with my Mentor/Mentee?
The Mentoring Coordinator is the first point of contact via e-mail mentors@europlanet-society.org
Acknowledgement
The Europlanet Mentoring Platform gratefully acknowledges the inclusion of materials developed as a legacy for the International Year of Astronomy (IYA) 2009 Cornerstone Project, "She is an Astronomer". The programme is dedicated to the memory of Dr Helen Walker (1953-2017), Chair of the Task Group for 'She is an Astronomer', in recognition of her longstanding commitment and outstanding work in supporting diversity in the astronomy and space science community.